ROSMADEC LE MOULIN,
a setting in the heart
of Pont-Aven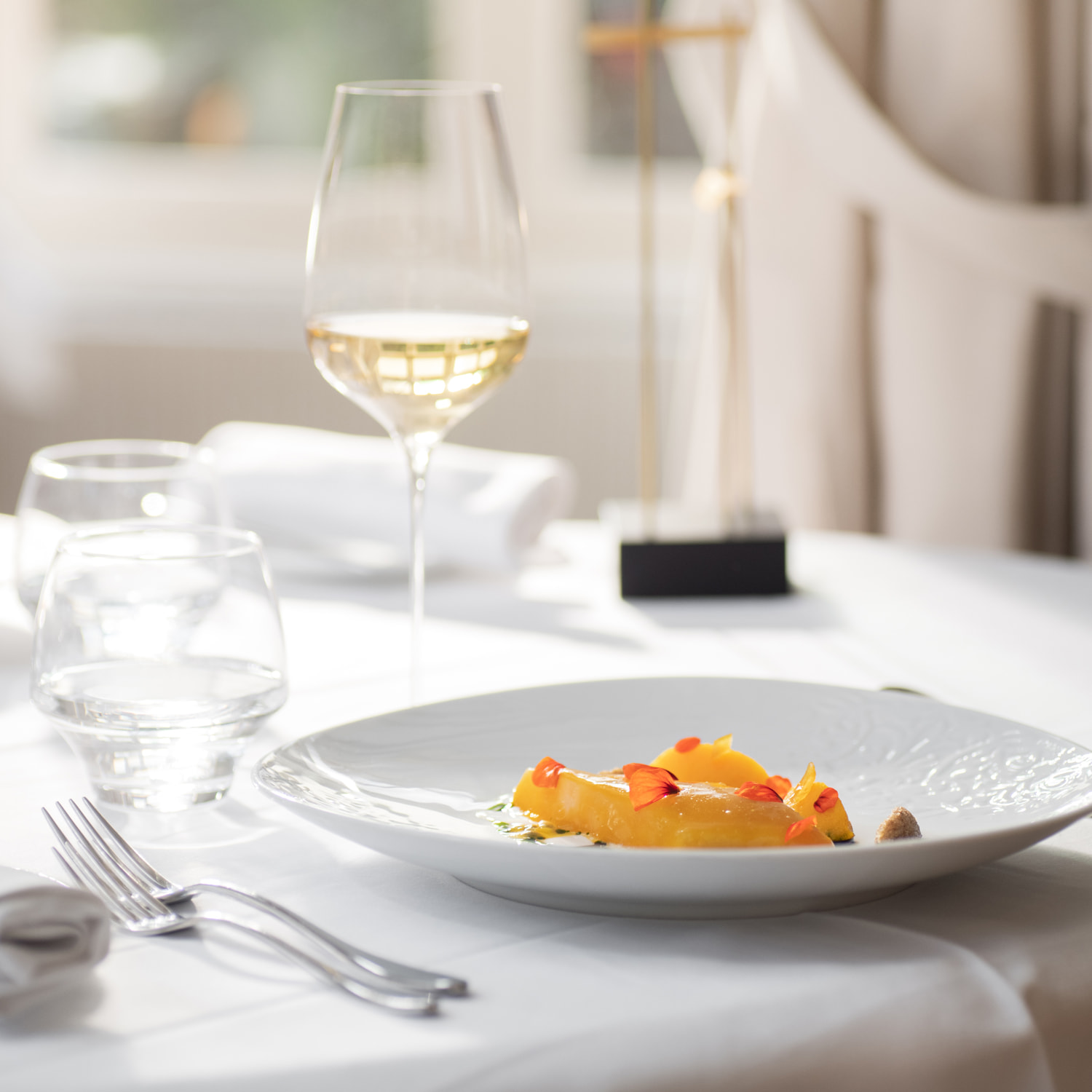 Rosmadec Le Moulin, a gourmet restaurant with a romantic charm
It is important to the Chef, Sébastien Martinez, to honor in each of his dishes, this unique place that is Rosmadec Le Moulin. This restaurant, emblematic of Pont-Aven, has been writing a new page in its history since 2018 with the greatest respect for its flamboyant past. The rooms, with their revisited decoration, offer a warm and intimate atmosphere. The terrace, bordered by the Aven, is still as bucolic as ever. And the cuisine, with Breton accents and refined accords, is first savored with a glance before delighting the palate of fine diners.
THE HISTORY OF THE ROSMADEC MILL
In the 15th century, the Moulin, which belonged to the Marquis de Rosmadec, made, like others, the reputation of Pont-Aven. The small town was, in fact, known for its many flour mills before becoming the famous City of Painters.
The Mill was later converted into an artist's studio and exhibition space. It was then a crêperie, then a gastronomic and family restaurant, first Michelin starred in the Finistère in 1933. The historic Moulin de Rosmadec has evolved over the water flowing under the bridges of the Aven, always registering with good taste in its time.
PONT-AVEN, PICTURAL GEM FROM SOUTHERN BRITTANY
The Pont-Aven school, initiated by Paul Gauguin, makes the identity of the small city of Cournouailles, the cradle of Impressionism and more recently of the Hangar't. The painting galleries punctuate the walk, from the heart of the village to the marina, and the Pont-Aven Museum is a must. The City of Painters is also the capital of Breton pancakes, these inimitable salted butter cookies went around the world and the great hours of French cinema of the 70s!
In Pont-Aven, art and gluttony echo what resonates on the plates of Rosmadec Le Moulin.